People in Myanmar (Burma) must learn to 'think freedom'
Whatever the military's motivation for allowing reforms in Burma (Myanmar), the people – led by Aung San Suu Kyi – are cautiously beginning to exercise their newfound freedom. But transitional democracies are notoriously unstable. People must learn how to think and act democratically.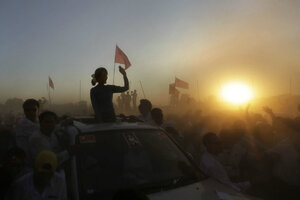 Altaf Qadri/AP/File
I recently returned from Burma, known officially as Myanmar. When I was executive director of Amnesty International USA (1994-2006), I would not have been granted a visa to enter Myanmar because of Amnesty's criticism of the government. This time I received a visa upon arrival at the airport in Yangon.
Similarly, Aung San Suu Kyi, the revered leader of the country's democracy movement, had chosen not to leave the country since 1989 for fear she would not be allowed back in. This time, having recently been elected to Parliament and assured of her right to return, she was in Thailand on her first travel outside the country in more than twenty-four years. I could finally get in at the same time she finally got out.
These are but two of the ways Myanmar has changed since March 2011, when general turned "civilian," Thein Sein, became president. Whether these and other relaxations of authoritarianism will last is naturally the first question on the mind of every Myanmar citizen. Is all this change simply a reflection of one man's (or one faction's) strategic predilections, or does it signal a genuine opening?
What is pretty clear is that the sanctions, economic and diplomatic, that the West and some of Myanmar's neighbors had brought to bear against the country had some effect. That's not because the government cared about the impact of those sanctions on the welfare of the people. It's because those who had made themselves rich with the government's help (Transparency International rates Myanmar one of the most corrupt nations on earth) realized that, with the West closed off to them, they had few places to invest their ill-gotten gains.
---