Paul Ryan – the anti-Palin
Paul Ryan is almost as bold a choice as Sarah Palin for the Republican vice presidential pick. With Palin, the question was whether she read books. With Ryan, the question is which (he's a fan of über capitalist author Ayn Rand). Ryan's political philosophy merits debate.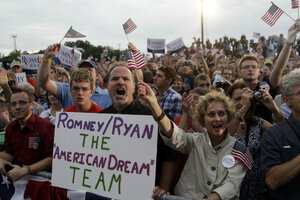 Mary Altaffer/AP
Mitt Romney's pick of Paul Ryan as his running mate is almost as bold as John McCain's choice four years ago. But Congressman Ryan is no Sarah Palin.
And that's good news for us all, Democrats, Republicans, and independents alike.
Indeed, Mr. Ryan, who is chairman of the House Budget Committee, is nothing less than the anti-Palin. Although he's young, telegenic, and very conservative, the similarities with Ms. Palin end there.
Back in 2008, Palin – at that time the governor of Alaska – very quickly showed herself to be little more than a talented TV personality, with almost no substantial knowledge of policy or even a grasp of basic facts about government. Ryan, by contrast, stands out among Republicans in the House for his wonkish interests.
It may be damning Ryan with faint praise to observe this, but he clearly passes the "ready to be president" test with flying colors, at least so far. Several hard-core supporters of President Obama already confessed to me that if Mr. Romney were to win, and Ryan were to become president via tragedy, it would not be a scary moment, in terms of the abilities and temperament of the man. Democrats can and will credibly argue that Ryan would lead the nation in the wrong direction, but at the same time, it must be conceded that he is a fundamentally competent and intelligent leader.
---