Why the world can't tolerate a preemptive Israeli attack on Iran
Under the UN Charter, neither Israel nor the US would have a legal right to preemptively launch a military attack on Iran. Do we want a world in which leaders are free to launch military attacks on other countries simply on an assumption of hostile intent and military capacity?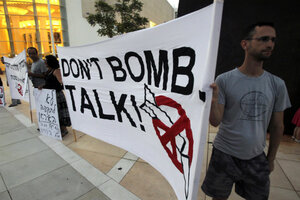 Baz Ratner/Reuters
Now that negotiations with Iran over its nuclear program are at an impasse, we are once again hearing that Israel, with or without US participation, is about to bomb Iran.
Last Sunday, Israel's Deputy Foreign Minister Danny Ayalon called for an international declaration that the diplomatic efforts to halt Tehran's enrichment of uranium "have failed." Such a declaration, he went on to say, would make clear that "all options are on the table" for Israel, the United States, and NATO. Other news reports say that Israeli Prime Minister Benjamin Netanyahu has "all but made the decision" to attack Iran this fall.
What is now at stake is not only a threat of a major war in a volatile region, but more importantly for the long run, the future of the international peacemaking process itself.
Responding to the horrors of World War II, countries sought to build an international order that would ensure and maintain international peace and security. Signed on June 26, 1945, the United Nations Charter stated that all members shall refrain from "the threat or use of force against the territorial integrity or political independence of any state." At the same time, the Charter recognized as an exception the right of self-defense. Article 51 provides:
---