My gloriously useless degrees in the humanities
Many insist the US needs more engineers and scientists to revive the economy. The hard truth is no degree guarantees a secure trajectory anymore. While I may not remember all I absorbed studying the humanities, I learned to think for myself. That has been invaluable in the workplace.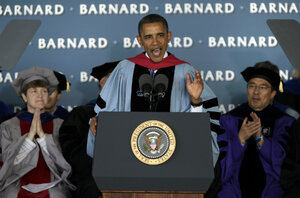 Richard Drew/AP
When I left school in 2002 with a master's degree in international affairs, I was set on having a career at the United Nations. By then I had already once changed career by dropping out of a clinical psychology program. Ten years later, I have the experience of both working for and leaving the UN.
In my undergraduate and graduate studies, I found pure joy in learning history and philosophy; studying the requirements, including statistics and economics, was less joyful. What I learned in both types of courses, though, was equally useless when I made my way as a working adult.
What was useful was the fact that I had a diploma in a relevant field, even though my mastery of the content mattered very little. It was useful that I was enthusiastic and willing to work long hours. On the other hand, I lacked the constitution to thrive in a hierarchical organization such as the UN. But school couldn't have taught me that. The rest of what I needed, I learned on the job.
For generations, higher education has been associated with better career prospects. And certain degrees, parents believed, represented more marketable skills.
At the peak of the Occupy movements last September, Florida Gov. Rick Scott argued that his state didn't need more people with anthropology degrees, but that state funds should go to degrees that can get people jobs.
There is no paucity of researchers, policymakers, and business leaders who insist that producing more highly trained engineers and scientists is the key to reviving the economy. Many have embraced the House decision in May to cut funding for political science research at universities and reallocate it to physics, engineering, and chemistry through the National Science Foundation.
---