Bill Clinton's arithmetic really endorses Mitt Romney
When Bill Clinton nominated President Obama at the Democratic National Convention last week, he emphasized cooperation and understanding arithmetic as essential to leadership. If you look at reality not rhetoric, you could say that Clinton was not so subtly endorsing Mitt Romney.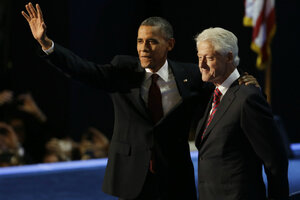 Lynne Sladky/AP
In a characteristically animated address to his fellow Democrats at their recent convention in Charlotte, former President Clinton nominated President Obama. President Clinton, who helped create nearly 21 million jobs in eight years in office, like President Reagan, who helped create nearly 15 million jobs, understands the dynamic of job creation.
It is not surprising, therefore, that Mr. Clinton emphasized two attributes of leadership that lead to job growth: cooperation and understanding arithmetic. If one looks at reality not rhetoric, and past performance not promises, one could say that Clinton was not so subtly endorsing Mitt Romney.
Clinton could have emphasized many leadership traits that favor Mr. Obama, such as Obama's unwavering vision of a progressive future, which was central to most speeches given at the Democratic Convention. Instead, he chose to emphasize cooperation and the importance of arithmetic – or the command of data – in the decision-making process.
A brief examination of their respective records reveals that Mr. Romney's performance regarding cooperation and his command of arithmetic is stronger than Obama's. Let us begin with cooperation, or working across the aisle in a bi-partisan way.
Clinton emphasized Obama's record in having named Republicans to his cabinet. Not surprisingly, Clinton did not emphasize Obama's ability to work with the other party in Congress, because Obama has in fact been openly running against Congress, particularly the Republicans, and his predecessor in office.
---