After anti-Islam video and Muslim riots, we are all ambassadors
Ambassadorship is no longer reserved for elites. In this era of digital interconnectedness, we are all called upon to use free speech to foster peace, not violence. To honor Ambassador Stevens, let us uphold that responsibility in our online – and offline – interactions.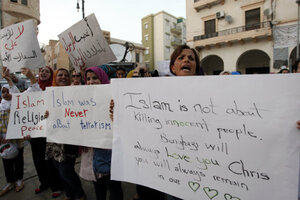 Mohammad Hannon/AP
What does it mean to be an ambassador?
In the wake of the murder of Ambassador Christopher Stevens in Benghazi, Libya, and continued riots and attacks on US embassies worldwide, our traditional understanding of this ancient term takes on new meaning.
"Ambassador" is a title that signifies responsibility for relationship management between two foreign powers, and Amb. Stevens exemplified core virtues of respect and cultural understanding throughout his career. His years as a Peace Corps volunteer exposed him to the challenges everyday people face, and his fluency in Arabic and French was more than many individuals in international public service can claim, as many never learn the language of the communities in which they serve.
And yet as exemplary as his leadership was, his best efforts were thwarted by a different kind of diplomat: a 21st century sort, a kind whose power has mirrored the rise (and near ubiquity) of global digital communications – an "everyday" ambassador.
We live in a world of instantaneous connectivity, in which our capacity to share opinions with global neighbors is nearly limitless, and the likelihood of governments blocking access to such content becomes less with every fallen dictator. We thus become ambassadors with every new piece of content we upload, taking international relationship management into our own hands. If we fail to take this responsibility seriously, we risk dire consequences.
---