What Romney and Obama can learn from Jim Lehrer in tonight's presidential debate
Jim Lehrer will moderate tonight's presidential debate with the same thoughtful tone he instilled in me as a young journalist. With Washington gridlocked, our next president will need that same spirit of inquiry and dialogue. Mitt Romney and President Obama should start by taking a cue from Jim.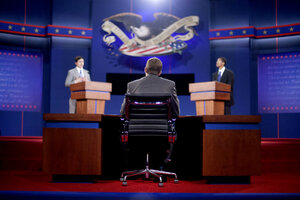 David Goldman/AP
Millions of Americans will tune in to tonight's presidential debate. Most of them, it's fair to say, are primarily interested in how President Obama and Mitt Romney will handle themselves. I'll watch for that, too.
But my primary focus will be on Jim Lehrer of PBS, who will be moderating his twelfth presidential debate. I'll be eager to see how Jim practices what he taught me more than 40 years ago – the art of the interview.
I was a young investigative reporter and political writer for the Dallas Times Herald, and Mr. Lehrer was my editor. On my first day he walked over to my desk in the newsroom and asked me to tell him how I did interviews. He had read many of my stories, but had never actually seen me conduct an interview.
I told him that when I got an assignment I first developed a list of possible sources and then drafted a short inventory of pump-primer questions. "Okay," he said. "Then what?" I still wasn't sure what he was getting at. So I continued. "Well, after some brief small talk I'll launch into the interview. I'll ask a question, my source will give an answer, then I'll ask another question."
At this point, Jim made a sound like a buzzer going off on a TV game show. "Wait a second," he said, raising his hands in a "time out" gesture. "You said you ask a question, the other person answers, then you ask another question."
"What's wrong with that?" I said. "The purpose of interviews is to gather information. The only way to get answers is to ask questions."
Then Jim laid some of his Texas wisdom on me. "Don't be too quick to believe that the only way to get answers is to ask questions," he said. "Another way is to listen slowly."
---