After the presidential debate: How to close the voting gap among low-income people
After last night's presidential debate, voter turnout is top of mind for the Mitt Romney and President Obama campaigns. But their concerns fail to address our democracy's fundamental challenge: how to increase voter registration among low-income citizens and communities of color.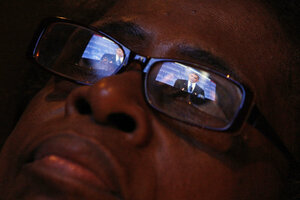 Joseph Kaczmarek/AP
Brentwood, N.Y. and Denver
After what most observers saw as a Mitt Romney victory in last night's first presidential debate, this election's home stretch has clearly arrived. And analysts around the country have voter turnout on their mind. Most political number-crunchers are busy trying to gauge whether one party's base is more enthusiastic, and whether these verbal sparring matches will convince undecided voters.
The answers to these questions may determine the November election results. But they fail to address the underlying turnout problem that is arguably the most fundamental challenge facing our democracy: how to increase political participation, particularly among low-income communities and communities of color.
At a time of troublingly low voter registration and turnout, our country needs policy innovation from states – particularly through laws and technology that make voting easier (e.g., online voter registration). But we also need grassroots innovation from community groups interested in engaging members of their communities. Our proposal: engage direct service providers – the nonprofit organizations that deliver services to vulnerable families in need, such as health clinics, food pantries, and housing organizations.
America's turnout problem is two-pronged. In the 2008 presidential election, only 61.6 percent of eligible voters cast ballots, according to the United States Elections Project. Turnout is far lower among those of lower socio-economic status. Data from the Census Bureau's Current Population Survey reveals that eligible voters with less than a bachelors degree voted at just over 50 percent in 2008, while over 70 percent of their counterparts with at least a bachelors degree cast ballots.
---