The path forward in Georgia: Will billionaire Ivanishvili invest in democracy?
Georgia's Oct. 1 parliamentary elections set up billionaire businessman Bidzina Ivanishvili to become prime minister. This presents a unique opportunity to build a consolidated democracy, develop civil society, and seek justice for those persecuted under President Mikhail Saakashvili.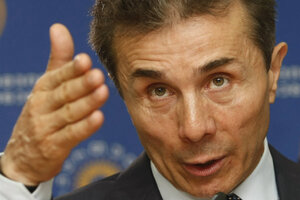 Shakh Aivazov/AP
Palo Alto, Calif. and Claremont, Calif.
Georgia's Oct. 1 Parliament elections were remarkable for two reasons: one, because the opposition Georgian Dream coalition won an overwhelming victory, notwithstanding an extremely unfair pre-election environment, and two, because President Mikhail Saakashvili admitted his defeat. This presents a unique, albeit fragile, opportunity to build a consolidated democracy.
Many hailed Mr. Saakashvili as a democrat when he rose to power during the Rose Revolution in 2003, but by late 2007 he had established an essentially authoritarian regime in which many Georgians lived in a state of fear. Yet because President George Bush had declared Georgia a "Beacon of Liberty" and because Saakashvili was seen as an opponent of Russian influence, many in the United States, especially conservatives, supported him, ignoring his domestic shortcomings. This deference marginalized the extremely weak political opposition.
Saakashvili's luck began to run out in 2011 when the billionaire Bidzina Ivanshivili decided to challenge him. Ivanishvili, the new Prime Minister-elect, made his fortune in Russia in the 1990s and afterward settled into a reclusive philanthropic life in Georgia. He spent more than $1.5 billion (according to some estimates) paying salaries of state employees, buying equipment for the military, funding elderly pensions, and rebuilding ancient churches.
---