To grow the economy, we must shrink President Obama's big government
US unemployment remains high. Job creation is lackluster. GDP growth is sluggish. Each of these measure should be higher. Lawmakers must reverse the harm of Obama's big-government policies by stopping Taxmageddon, eliminating red tape, and reforming entitlement programs.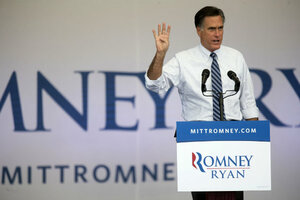 Julie Jacobson/AP/File
Daunting issues await lawmakers returning to Washington: the fiscal cliff; unprecedented spending; soaring debt. And there's no easy fix in sight. Before tackling these issues, lawmakers should take a deep breath and assess the nation's economic health.
The economy is growing, but nowhere near as fast as it needs to be. Just ask the 23 million Americans who have no work, can only find part-time jobs, or have given up and stopped looking.
The unemployment rate remains stubbornly high – and would be far higher had not millions of would-be workers given up looking altogether. Job creation is lackluster, averaging about 157,000 jobs per month so far in 2012, about the same as last year. And the economy is growing at a sluggish pace, with gross domestic product, or GDP, increasing by an annualized rate of only 1.3 percent in the 2nd quarter.
Each of these measures should be higher at this point in a recovery. GDP should be growing at more like 3.5 percent. To bring down the unemployment rate, job growth should be north of 200,000 monthly. (We need 125,000 net new jobs just to keep pace with a growing population.) Instead, we have the weakest recovery since 1945, one dragging along nearly three times slower than the 1981 recovery.
Over at the Federal Reserve, Chairman Ben Bernanke's monetary machinations – churning out low interest rates and engaging in serial "quantitative easing" – are more proof of a floundering economy.
President Obama's machinations have fared no better. His first act – a massive stimulus package, complete with "shovel ready" infrastructure projects – was supposed to jolt the economy and get people back to work.
Instead, unemployment continued to shoot up and Americans were left with the $830 billion tab. The stimulus failed because government can't create purchasing power out of thin air. It must first tax it or borrow it out of the private economy, leaving that much less for the private sector to spend.
---