Balkan conflicts hold clear lessons on intervention in Syria
As policymakers in Europe, the United States, the Gulf states, Turkey, and the Arab League search for ways to resolve the conflict in Syria, they should consider what the wars in Bosnia and Kosovo have to teach about outside intervention. The main lesson? Do it – to stop the killing.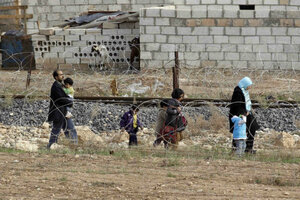 Osman Orsal/Reuters
The latest estimates put the number of dead in the Syria conflict at more than 36,000, with a million people internally displaced. Hundreds of thousands of Syrians have fled to neighboring countries. A second day of government shelling of the Syrian border town Ras al-Ayn continues to drive refugees into Turkey.
The killing continues in large part because Russia, China, and the United States are deadlocked in the United Nations over intervention, the Syrian government is determined to destroy the rebels, and the rebels are equally committed to the destruction of the Bashar al-Assad regime. Britain and France have each expressed increasing support for the opposition, confirming a shift in their approach to the conflict. The Gulf Cooperation Council has announced formal recognition of the Syrian National Council, and Britain plans to meet with the opposition group later this week.
---