A 35 percent tax rate is a number, not a principle
Republicans believe that the upper-income tax rate should not be raised. It's a line in the sand based on principle. True, low taxes is a principle. But the actual rate is relative, and must be flexible to avoid the 'fiscal cliff.'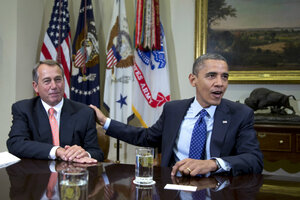 Carolyn Kaster/AP
We're about to find out if the Republican party is willing to commit political suicide over the idea that no person in America, no matter how wealthy, should ever pay a tax rate above 35 percent.
Thirty-six percent? No way. Thirty-nine percent? Never. Give us 35 percent or give us death.
Republicans believe that this line in the sand is based on principle. Our Founding Fathers enshrined several absolute rights into the Bill of Rights: the right to bear arms, the right to freely assemble, the right to exercise religious freedom. These are principles worth fighting for.
Life begins at conception. That's another principle. And I can understand anyone's unwillingness to compromise on that. It's not relative. But a top tax rate of 35 percent? Really?
That's not a principle – it's a number. The principle underlying it is that lower tax rates stimulate the economy. And from almost any historical perspective, a top tax rate of 38 percent or 39 percent would be low.
Back in 1945, the top tax rate was 94 percent. In the early Roaring Twenties, it was 73 percent. In the early 1960s, when the economy was growing at 5 percent annually, the top tax rate was 91 percent. And in the last big boom of the 1990s, it was around 40 percent.
Tax rates are, by their very nature, relative.
And that means in real negotiations, there should be room to move that number. But that won't happen if Republicans continue to treat 35 percent as an inalienable right. And that means there will be little room for a dispassionate discussion, which is what we need in order to approach the fiscal cliff as what it is: a math problem to solve.
---