Obama must offer a 'grand deal' with Iran on its nuclear program
The current trajectory is headed toward a violent endgame, writes this former spokesman for Iran's nuclear negotiators. The Obama administration needs a new engagement policy with Iran that brings an end to 33 years of a failed 'diplomacy plus pressure' policy dubbed as 'dual-track.'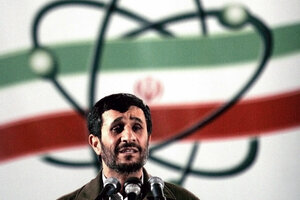 Hasan Sarbakhshian/AP/file
For Iran, the nuclear crisis has become the most important national security and foreign policy challenge since the Iran-Iraq war in the 1980s.
The country may not be losing hundreds of thousands of soldiers and civilians to a hot war. But it is enduring the most severe sanctions in its history, foreign assassinations of its scientists, and international pressure that has shaken the foundation of its relations regionally, and with Western and Eastern powers. It would not be unrealistic to conclude that Iran has already paid the price for a nuclear bomb.
And yet Iran has not relinquished its uranium enrichment rights under the Non Proliferation Treaty, and instead has become more resolute and defiant. Today it has about 10,000 nuclear centrifuges and has mastered uranium enrichment to the 20-percent grade level – defying the UN Security Council and the West by bringing its enrichment capacity to a "point of no return."
With both sides scoring such high points, this duel could be interpreted as a win-win game, with the West squeezing Iran as never before and Iran's nuclear program continuing on. I would suggest, however, it is really a lose-lose one, with a trajectory headed toward a violent endgame. This, though, can be avoided with a grand deal.
It's encouraging that Iranian President Mahmoud Ahmadinejad recently stated that the now politicized dispute over Iran's nuclear program should be resolved by direct talks between Iran and the United States. This is a major shift in the Iranian president's understanding.
---