Plan B for raising debt ceiling: Obama should invoke the Constitution
President Obama wisely wants to resolve the looming crises with the debt ceiling and the 'fiscal cliff ' now. If he can't strike a debt-ceiling deal, he has another option: Bring out the Constitution, whose 14th Amendment states that the 'validity' of US debt 'shall not be questioned.'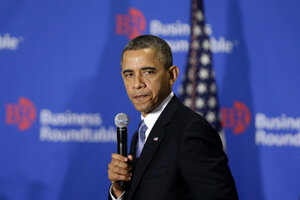 Charles Dharapak/AP
President Obama has reopened the issue of the debt ceiling – and not a minute too soon. Heated debate over the looming fiscal cliff has obscured the fact that the US government will run out of money as early as next February, unless Congress approves an increase of the debt limit, now fixed at $16.4 trillion.
Failure to raise the borrowing limit would trigger a widespread government shutdown and default on debt payments to creditors, because the US government would no longer be able to finance day-to-day operations or service its debt.
Even a protracted debate on the debt ceiling, such as took place in the summer of 2011, could have dire consequences. The financial markets would react negatively to the threat of default and to the uncertainty posed by indecision. As last year, the credit agencies would likely regard political gridlock as a reason to further degrade America's credit rating.
That's why Mr. Obama was right to tell corporate executives this week: "I will not play that game."
He also wisely suggests a grand bargain that resolves both the debt ceiling and the fiscal cliff (automatic tax increases and drastic spending cuts due to take effect Jan. 1). Resolving these two issues now is the best solution for the country.
The president's debt-ceiling proposal would have him notify Congress when the debt ceiling needs to be raised, and also request an increase in the borrowing limit – but lawmakers' approval is not required. Should Congress pass a resolution to deny a request, the president could veto it.
---