'Fiscal cliff' cuts to job training for young people would cost taxpayers dearly
Because of the 'fiscal cliff' John Boehner and other lawmakers are looking to cut spending. But failing to prioritize successful programs in education and job training for young people would cost taxpayers more in the long-run. America should be expanding, not defunding, those investments.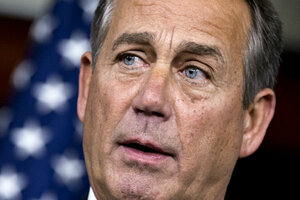 J. Scott Applewhite/AP
Northampton, Mass. and Washington
Almost 5 million people under age 30 are looking for work. Millions have gone back to school only to face skyrocketing college tuition and few opportunities upon graduation. Not surprisingly, a national poll of 18- to 34-year-olds found that almost half of our fellow Millennials fears they will end up worse off than their parents. And now, the so-called fiscal cliff threatens to bring the latest round of devastating setbacks to this country's young people.
Given the scale of the problems facing our generation, you might expect Congress to prioritize successful and cost-effective programs in education and training. Unfortunately, that's not the trend in Washington these days. President Obama, John Boehner, and GOP lawmakers are negotiating the so-called fiscal cliff – a combination of looming across-the-board budget cuts and tax increases. If those cuts took effect, they would blindly slash funding for programs that provide essential education and training for young people.
In a new report, we demonstrate the enormous gap between the scale of the challenges facing young people and the meager public investment in their success.
Although education and training beyond high school are now all but crucial to economic prosperity, the share of total public spending devoted to education is on the decline since 2000. Cuts at the state level have driven up tuition at public universities and fueled increases in student debt. The United States once boasted the highest proportion of college graduates in the world, but it has now fallen to 12th place.
---