Madison never meant Second Amendment to allow guns of Sandy Hook shooting
Adam Lanza's shooting rampage at Sandy Hook Elementary School in Newtown, Conn. renews debate over gun control. A close look shows that James Madison conceived the Second Amendment in a different time, under different circumstances, with different weapons.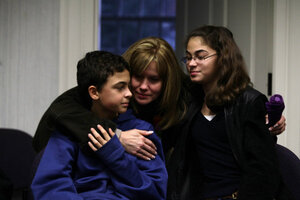 Joshua Lott/Reuters
Following the tragic shooting at the Sandy Hook Elementary School in Newtown, Conn. by Adam Lanza , many Americans are wondering what exactly our Founding Fathers intended when they set the Second Amendment to paper more than 200 years ago. Surely not the killing of 20 young children and six women.
Were firearms intended only for militias – as the first clause might indicate? Or are municipalities prohibited from banning certain firearms – as the Supreme Court ruled in 2010 in McDonald v. Chicago when it overturned the Windy City's ban on hand guns?
The problem with these lines of thought is that in both we are refusing to frame this debate in the 21st century. Or even more appropriate, the year 2012 – whose multiple mass shootings included the massacre in Aurora, Colo. and last week's two tragedies in Happy Valley, Ore. and Newtown. If we truly wish to demystify the intentions of James Madison when he wrote the Second Amendment, we must reconstruct the environment in which he conceived it and recognize that it was a very different time, with very different circumstances, and very different weapons.
At first, success in the Revolutionary War helped the Founding Fathers realize the necessity of firearms. A far-away government imposed taxes without representation, but with an armed citizenry, the colonies had fought for the right to form their own government. It is likely that Madison intended that guns be available if this course of action was ever again necessary.
---