As fiscal cliff approaches, don't be fooled by the great Nordic myth
The Nordic countries are some of the happiest and most prosperous, which many attribute to socialist policies. That's a myth. As John Boehner and President Obama's 'fiscal cliff' debate over spending cuts continue, lawmakers should remember that socialism did not spell prosperity.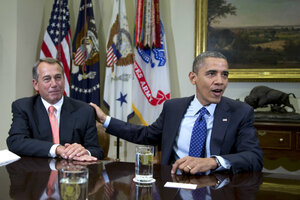 Carolyn Kaster/AP/File
According to the latest Gallup World Poll, Denmark is the happiest country in the world. This is not the first time a member of the prosperous Nordic countries – Denmark, Finland, Iceland, Norway and Sweden – has earned the title. And because the Nordic economies are often viewed as socialist as well as prosperous and happy, some call for the United States to increase government involvement in its economy.
As America's fiscal cliff approaches, some of these advocates, especially Democrats, protest federal spending cuts. They resist any change to entitlements and even call on President Obama, John Boehner, and other lawmakers to increase federal spending.
A more thorough understanding of the specifics of the Nordic economies, however, actually leads one to reject policies that extend government control of markets and reduce economic freedom.
First, contrary to popular belief, in recent decades, the Nordic economies have moved away from socialism and now enjoy substantial economic freedom in the areas of property rights, regulation, monetary policies, and trade. Second, Nordic countries possess advantages in homogeneity and culture that help explain their relative prosperity during their mildly socialist past as opposed to economic policies alone.
---