After Sandy Hook and Webster, N.Y., the real 'monster' only community can heal
After the Sandy Hook massacre in Newtown, Conn. and now the shooting ambush of firefighters in Webster, N.Y., public dialogue has focused on the world's evil. But the real 'monster' is the abuse and neglect that kills kids every day – stopped by strong communities, not guns.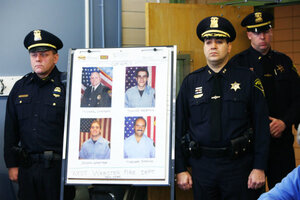 Marie De Jesus/Democrat & Chronicle/AP
When I was 8 years-old, I went through a six-month period where I couldn't sleep at night because I was convinced I would be kidnapped out of my bed. I had a vivid imagination to be sure, but it was being fed by a potent catalog of images. It was 1988, the height of little missing kids on milk cartons and "It's 6pm, do you know where your children are?" on the nightly news. All the neighborhood families had "safe words." We were trained to cut our Snickers bars in half on Halloween, lest they be hiding razor blades, and to avoid strange men in windowless vans.
Even though my own parents didn't succumb to the culture of fear created by these overblown news stories, I did. It was in the water I swam in and, a sensitive little girl, I drowned once the lights went out.
After Adam Lanza's shooting massacre at the Sandy Hook Elementary School in Newtown, Conn. – and now the shooting ambush of firefighters in Webster, N.Y. – our public dialogue, once again, has turned to the big badness of the world. I have been imagining what it is like for little kids right now, listening to the radio on the way to school, catching a headline on their parents' iPads (NRA Calls for Armed Guards at Schools), sensing the tension in their teachers' urgent whispers in the faculty room. For me, the fear of kidnapping was omnipresent; for them, it is gun violence.
---