Putin shows Russian insecurity in signing ban on US adoption of orphans
Russia's ban on US adoption of orphans is retaliation for a US law that targets human-rights abusers in Russia. Moscow's response reveals one of its greatest weaknesses, a deep-seated national sense of insecurity. Now Russians themselves must demand better for their children.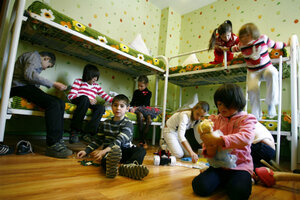 Vladimir Konstantinov/Reuters
Russian President Vladimir Putin today signed legislation that ban Americans from adopting Russian children. It's a move that reveals Russia's deep insecurities – and worse, makes children a pawn in a political dispute.
The Duma, or lower house of parliament, which overwhelmingly passed the legislation, has for years held loud and anger-filled hearings into the alleged mistreatment of Russian orphans by their adoptive American parents. The political street theater has usually been nothing more than a means of expressing indignation at America's occasional failings to protect adopted children and as a way to distract the public from Russia's poor record with its woefully neglected orphanages.
This time, the motivation is a fervent desire to retaliate against the US for the recent passage and enactment of the Magnitsky Act. The new law requires the US secretary of State to compile a list of Russian officials it believes are complicit in the 2009 death of Moscow anti-corruption lawyer Sergey Magnitsky, who died under suspicious circumstances while in jail, and of others involved in gross human rights violations.
Under the Magnitsky law, Russian officials on the list will be denied visas to the US, and their assets in US financial institutions will be frozen. The Kremlin literally hasn't known how to effectively respond and its instinctive and reflexive responses to Washington are likely to be both ineffective and to exacerbate its problems.
---