Partisan gridlock? Not in Ireland
The drawn-out wrangling over the 'fiscal cliff' in Washington couldn't have happened in Ireland. Getting a bill passed in Europe is a straightforward exercise for one simple reason: parliamentary democracy. But caution: Such a system also helped cause Europe's debt woes.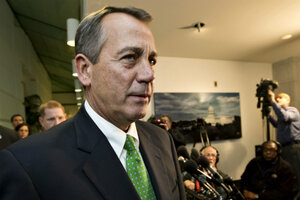 J. Scott Applewhite/AP/file
It's funny how two democratic regions of the world – Europe and the United States – can have such different systems of government, and yet both end up in a muddle of deficits and debt.
Case in point: The drawn-out wrangling over the "fiscal cliff" in Washington couldn't have happened in Dublin, or indeed in any other European capital.
This isn't because national lawmakers on this side of the water are any wiser or more considerate of the big picture than their US counterparts. Indeed, the opposite might be true, given the continent's prolonged fiscal mess.
But getting a bill passed in this part of the world remains a more straightforward exercise, for one simple reason. Parliamentary democracy – the preferred form of government in the European Union – guarantees a loyal legislative majority, something President Obama or House Speaker John Boehner can only dream of.
In such a system, the executive derives its power from the parliament, which is chosen by the people. The executive and parliament work together as either a majority party or in a governing coalition, until voters decide to support the opposition in sufficient numbers in the next parliamentary election.
To see how this works in comparison to America, let's take the situation here in Ireland, where patchwork compromise of the US variety is wholly unnecessary because the present coalition between the Fine Gael and Labour parties enjoys a near 50-seat majority in the Dail, or lower house of parliament.
As a result of this iron grip on power, the Irish government can do pretty much as it pleases. Unlike in the US, the legislative process moves swiftly. Irish cabinet ministers identify problems (the most troublesome at the moment being in health and education), come up with intended solutions, and then look for approval – which is almost always granted – from their cabinet colleagues.
---