The beauty of a carbon tax – and its exemption for the poor
Taxing greenhouse gas pollution through a carbon tax lets the market, not government, pick the winners. Big polluters like electrical power plants would be encouraged to use cleaner energy. And a simple tax exemption could lower the costs passed on to poor Americans.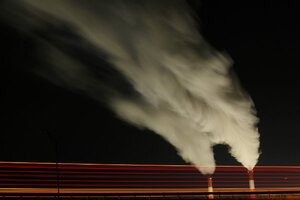 Charlie Riedel/AP/File
A carbon tax is, remarkably, back in the political debate. Three years after President Obama in effect abandoned a "cap and trade" proposal after opponents effectively mocked it as "cap and tax," his re-election has made it politically safe again to utter the word "tax."
Some lawmakers are considering a charge on the air pollution emissions of carbon, which is the leading greenhouse gas that causes global climate change. If that were to happen, the remaining policy challenge would be to impose the tax fairly on the American public, especially on people with low incomes.
The policy arguments for a carbon tax are compelling. Economists have convinced the environmental community that market-oriented systems, as opposed to inflexible commands, are the best way to regulate. The simplest and most efficient way to change people's behavior is to tax them; everyone is then encouraged to look for efficient ways to avoid the taxed activity.
One of the many benefits of taxing pollution is that government does not have to make any of the difficult choices inherent in subsidizing alternative energy – solar, wind, wave, geothermal, biomass, or nuclear – a dilemma that was painfully proven through the Obama administration's half-billion-dollar subsidy of the ill-fated Solyndra (though most of the federal clean-tech investments have not failed). With a tax, the market, not the government, picks the winners.
---