Inauguration 2013: Will President Obama's second term resemble Reagan's?
Inauguration Day gives President Obama a second chance that resembles President Reagan's in 1985. Reagan hoped to reform the tax code and reduce the deficit in his second term. Like Reagan, Obama will need communication skills to tackle challenges, especially the deficit.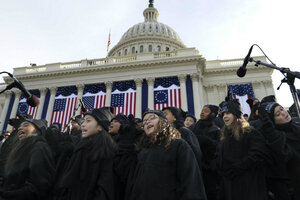 Susan Walsh/AP
As he celebrates his second inauguration, it's fair to ask: Can a two-term President Obama become the Democrats' Ronald Reagan – someone who, in Mr. Obama's words, "changed the trajectory of America"?
In some ways, this president's situation resembles that of President Reagan in 1985. In the Republican's first term, he faced double-digit unemployment and suffered a big midterm setback. Some pundits thought he would surely lose reelection.
But Reagan worked his way back into contention. With the aid of a less-than-stellar opponent (former Vice President Walter Mondale), he won reelection and Republicans held on to their Senate majority.
In his second term, Reagan hoped to reform the tax code and reduce the deficit, although his reelection campaign agenda was short on specifics.
This comparison may seem to bode well for the current chief executive, since we remember Reagan as a successful president. He restored optimism to America, won major tax cuts, and played a key part in bringing the cold war to a peaceful conclusion.
In his own first term, Obama also tried to change America's trajectory, but through a more activist government. Ideally, he'd like to follow health-care reform by revising immigration laws, strengthening gun control, and reducing the nation's dependence on fossil fuels.
But if a first term can be Christmas for a president, a second term can turn into a pile of broken toys. Administrations grow old, their ideas grow stale, and opponents grow bolder. That's where the Reagan analogy suggests difficulty.
With the notable exception of tax reform, Reagan's second term brought him a great deal of frustration on Capitol Hill. From enterprise zones to aid to Nicaraguan rebels, Congress resisted major Reagan initiatives. In 1986, Democrats retook control of the Senate and the Iran-contra scandal broke. The next two years were tough.
---