Character education is not enough to help poor kids
Character education – teaching kids to be responsible and to persevere – isn't enough to bring poor students out of poverty or close the achievement gap. Policymakers need to tackle the underlying causes of poverty and the significant obstacles poor children face.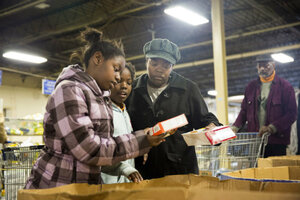 Aaron P. Bernstein/Reuters
The foster care system failed Sam miserably. There wasn't a nurturing household in his long string of placements. He grew up on his own, got into trouble with the law, kicked around in odd jobs, and found the community college where he turned his life around.
Sam is 25, a big guy with a full smile who cares deeply about education and leading a meaningful life. Though he was sleeping in his car for a semester, he's maintained strong grades, participates in student government, and works on campus as a tutor and in a summer program for middle school kids.
Sam's progress toward his associate degree has been stalled, however, because severe budget cuts forced his college to limit course offerings during the year and pretty much eliminate summer classes. Illness from when he was living in his car made it harder to concentrate – though he maintained a full load. And he had to miss classes when his car was impounded because of lapsed registration and parking tickets he couldn't pay. Still, as he puts it, nothing will stop him.
There is an emerging opinion about poverty and the achievement gap that holds that America can boost the academic success of poor people like Sam – and younger incarnations of Sam particularly – through psychological and educational interventions that will help them develop the qualities of personality or character needed to overcome their circumstances. These are qualities that Sam displays in abundance: perseverance, self control, and belief in one's ability.
No doubt these are powerful attributes, and they contribute mightily to a successful life, regardless of how old you are or where you sit on the socioeconomic ladder. But policymakers need to be careful not to assume that character education is the long-awaited key to helping the poor overcome the assaults of poverty. My worry is that we will embrace programs that are essentially individual and technocratic fixes – mental conditioning for the poor – and abandon broader social policy aimed at poverty itself.
---