Israel's new government could bring shift in policy on Arab Spring and Palestinians
Following Israel's parliamentary elections, the gains of Yair Lapid's moderate party over Benjamin Netanyahu's Likud party could provide the opportunity for a needed change in Israel's stance on the Arab Spring and its conflict with the Palestinians.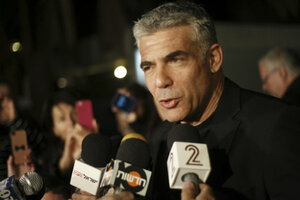 Ariel Schalit/AP
Though the power-sharing details of the Israel's new coalition government have yet to be settled, election results confirm the surprising parliamentary gains of middle-class champion Yair Lapid over Prime Minister Benjamin Netanyahu's conservative Likud party. The voter-mandated shift to the center puts Mr. Lapid in the kingmaker role and gives centrist political parties much more influence over the course of Israel's domestic and international policy.
Such a shift is a welcome development. Israel's stance on the Arab Spring and Palestinian conflict under the last government has been characterized by passive entrenchment – and it has been deeply flawed. Now is the time to focus instead on constructive, proactive policies that move Israel and the region forward.
As the Middle East underwent tremendous social and political change over the past two years, the Israeli government's predominant reaction to the "Arab awakening" has been a mix of skepticism and hesitance.
While the official Israeli policy has been to keep a low profile and refrain from openly interfering in external political processes, there have been widespread concerns within the government over increased regional volatility and calls to restore stability. On several occasions, Mr. Netanyahu linked this perceived regional instability with his country's need to focus with greater urgency on boosting its national security.
---