US should look to Morocco for help with threats in Mali, Algeria, Libya
Hillary Rodham Clinton yesterday pointed to violent extremism in places such as Libya and Mali as a 'strategic challenge' to the United States and North Africa. The US can help meet that challenge by partnering with Morocco, an island of calm and progress in a chaotic region.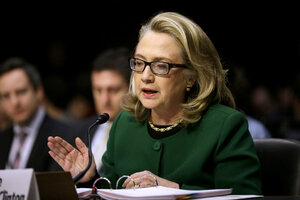 Pablo Martinez Monsivais/AP
Testifying before Congress yesterday, Secretary of State Hillary Rodham Clinton said that last year's attack on US government posts in Benghazi, Libya, "are part of a broader strategic challenge to the United States and our partners in North Africa" because of growing violent extremism there.
Whether in Libya, Mali, or Algeria, Islamist terrorist attacks show the US now in a defensive position, having to react to yet another significant threat to American interests instead of taking a proactive approach.
One look at a map of the region, however, points to an obvious partner and a durable option for meeting that threat. Morocco is progressive and stable, and has been the most consistent and oldest ally of the US in this vast swath.
In North Africa and the Sahel − from Mauritania through Algeria, Tunisia, Libya, Egypt, and Central Africa − Morocco stands out for its stability, hard-won security, and progressive political and economic reforms. When one looks across the region, a troubling "arc of instability" stretches from the Horn of Africa to Al Qaeda's new base in northern Mali. But it stops dead at the Moroccan border. The Saharan region of Morocco is not only calm; it is moving forward on its economic, social, and cultural future. Importantly, Morocco is working aggressively to increase power-sharing within its borders.
This contrast was brought home to me by a new report from the Economic, Social, and Environmental Council of Morocco, which focuses on proactively defining Morocco's plans to implement a new policy in its Saharan provinces. Every policymaker who deals with North Africa should read this report, as it candidly discusses the need to regionalize power, much like the US federal system, to better serve the needs of its citizenry.
That a constitutional monarchy like Morocco suggests such devolution of power is remarkable, but just as striking is the openness with which the commission admits the challenges to be overcome. Morocco has worked for years to create stability and economic and social progress for its Sahrawi population of the Sahara Desert and Sahel.
---