Iran and the US need a middleman – or two
As Iran and the US prepare for negotiations on Tehran's nuclear program, both sides should consider turning to middlemen. Turkey and Japan are perfectly positioned as trusted intermediaries to build a proposal that has a better chance at success than anything by the 'P5+1.'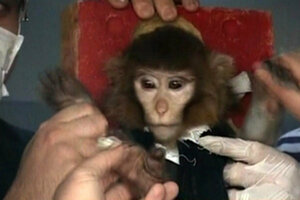 AP Television
This week, Iran sparked international concern again after it announced a successful launch of a monkey into space – a testament to the progress of its missile systems – and deflected reports of an explosion at its Fordrow nuclear facility. As Iran and the international community try to agree on a date and prepare for a new round of negotiations over Iran's nuclear program, it is time to reflect on the lessons learned from previous failed talks.
Following the model of the Turkey-Brazil proposal considered in mid-2010, negotiators should once again turn to "middlemen" countries that can help fashion a deal that satisfies both Western and Iranian concerns. Turkey and Japan are perfectly positioned as trusted intermediaries to build a credible proposal that has a better chance of standing up to the scrutiny of Washington and Tehran than anything likely to be produced by the P5+1 (the five permanent members of the UN Security Council, plus Germany).
Only with intermediaries that are perceived as honest brokers by both sides can the Iranian nuclear negotiations break out of what has become a zero-sum game.
There have been near misses in international efforts to strike a deal with Iran, but none came closer than the Turkey-Brazil proposal to resolving the fundamental demands of both the United States and Iran. At heart, Western powers want to ensure that Iran is not pursuing nuclear weapons capabilities, while Tehran wants to ensure it preserves its "right" to develop a peaceful nuclear program.
---