Israeli airstrike on Syria shows strategic strength
Despite pledges from Syria, Iran, and Hezbollah that use of force will be met with force, there has been no retaliation since Israel's airstrike inside Syria Jan. 30. Israel clearly retains the strategic high ground in the region, with full knowledge that its enemies are bogged down.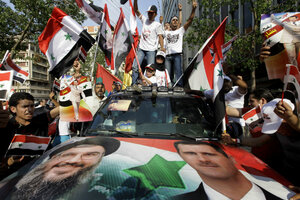 Bilal Hussein/AP/file
Since Israel's brazen airstrike on Syrian territory Jan. 30, Israel's enemies have yet to retaliate. Syria, Iran, and their proxy, Hezbollah, together comprise the region's heavily-armed fighting force, and yet remain unwilling to make good on pledges to respond with aggression to any Israeli force.
Even Syria's enemies have begun to take notice of the nonresponse, exploiting the Assad regime's inaction for their own propaganda purposes. In Turkey, where relations with Israel are seriously strained, President Ahmet Davutoglu asked: "Why didn't [Syrian President Bashar] al-Assad even throw a pebble when Israeli jets were flying over his palace and playing with the dignity of his country?"
Depending on whom you ask, Israel either hit sophisticated anti-aircraft missiles in Syria that were en-route to the Lebanese border and Hezbollah (this is the US and Israeli explanation), or it hit a symbolic military research center northwest of Damascus (the Syrian version). But at this point, speculation over which targets were hit, where they were located, or what exact purpose they served is irrelevant.
What is relevant, is that Israel clearly retains the strategic high ground against its enemies, with full knowledge that Syria, Iran, and Hezbollah are bogged down in the swamp of civil war, economic sanctions, or diplomatic isolation.
---