A civics lesson for 20-somethings
Many young people drop out of civic life because we set them up to fail. In the Obama era, we talk about social change in such grandiose terms that anything after is bound to feel insignificant in comparison. I've learned that civic engagement, above all else, requires resilience.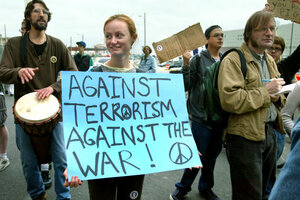 Melanie Stetson Freeman/The Christian Science Monitor/file
I have a distinct memory of that cold Saturday morning in February 2003. The invasion of Iraq was imminent. I jostled lead-heavy arms and legs throughout the apartment to get my best friends up and out to the antiwar march. They were none too happy with my political enthusiasms the morning after a late-night dance session, but they appeased me nonetheless.
We 20-somethings marched in a near endless parade of humanity in Manhattan. The protest was coordinated with other demonstrations around the world, but it didn't appear to matter. President George W. Bush likened the size of the protest to a "focus group" and said he wouldn't make policy based on it. The war went on.
My friends didn't say "I told you so" outright, but I knew that there would be no more such marching mornings with them. They'd tried and it hadn't worked.
I was reminded of this early defeat when I read an interesting finding of the recently released "Millennials Civic Health Index," put out by several groups including Harvard University and the National Conference on Citizenship. The report on 18-to-29-year-olds in 2012 finds that while civic engagement typically increases with age, 22-to-25-year-olds have lower levels of social cohesion and volunteerism than their older or younger peers.
---