How President Obama can forge a nuclear deal with Iran
Ahead of crucial 'P5+1' talks on Iran's nuclear program in Kazakhstan Feb. 26, President Obama needs to show willingness to meet Iranian concessions with some of his own. But Congress is in no mood to ease sanctions. Obama, however, can go around Congress.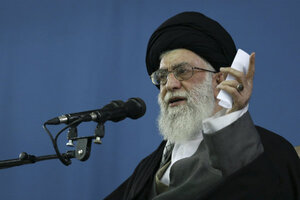 Office of the Supreme Leader/AP
It is clear by now that President Obama will likely never persuade Congress to lift its crippling sanctions on Iran even if Iran agrees to make significant concessions on its nuclear program. If anyone had any doubt about how hostile Congress is even to the mere idea of easing pressure on Tehran, watching the Senate Armed Services Committee's treatment of Chuck Hagel at his confirmation hearing for secretary of Defense should have put that doubt to rest.
Pressuring Iran is no longer just a matter of tactical policy for Congress. It's a deeply institutionalized ritual that every member is expected to partake in.
This is a sad reality that Tehran is fully aware of – one that Ayatollah Ali Khamenei, Iran's Supreme Leader, tacitly acknowledged last week after the Obama administration implemented new congressional sanctions: He said that Iran would not be negotiating with America simply "for the sake of negotiating." Iran wants a negotiating partner that can actually deliver on a promise to normalize relations and reciprocate concessions with mutual concessions.
As Congress has made this implausible for now, bilateral talks between Tehran and Washington are not likely to take place any time soon. On the other hand, the United States and Iran will inevitably meet to negotiate the latter's nuclear program in the context of the multilateral "P5+1" talks scheduled to take place in Kazakhstan on Feb. 26.
---