Fallout from Olympic wrestling takedown – a mother's protest
There's been a furor over the decision not to guarantee wrestling a spot in the 2020 Olympics. Rightly so. I know first-hand what the sport does for young men (including my three sons) and an increasing number of young women. Fortunately, the decision is not final. It's time to speak out.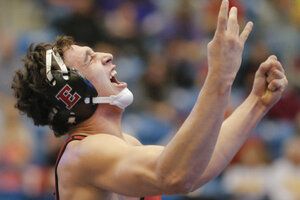 Travis Heying/The Wichita Eagle/AP
I'm the mom of a wrestling family. Last August, two of my sons – both former high school wrestlers – went to the London Olympics to root for our local star, Ellis Coleman, a.k.a., the "flying squirrel," who wrestled Greco Roman. He didn't win – in fact, he lost early in the match. But he sure was planning on winning in 2016, 2020, and perhaps beyond.
All that has changed.
The governing board of the International Olympic Committee (IOC) voted by secret ballot Feb. 19 to exclude wrestling from its guaranteed slot in the 2020 summer games, reportedly to "modernize" the Olympics. If the decision is not overturned, wrestling will have to compete with seven other sports – from baseball to karate – for a berth in 2020.
The IOC expunged the sport that has been a mainstay of the Olympics since 1896, maintaining it wanted to focus on 25 core sports. IOC documents indicate that wrestling's popularity apparently doesn't rank that well based on 39 criteria including TV ratings, ticket sales, and global participation. But while the committee dropped wrestling, it preserved the modern pentathalon – a five-sport combination of fencing, shooting, horse jumping, swimming, and running.
During last summer's Olympic games, 58.5 million viewers watched Olympic wrestling on television at its highest point, with an average of 23 million viewers. Compare that to the 33.5 million people who watched the pentathalon at its highest viewership, with an average of 12.5 million viewers. As former wrestler John Irving points out in a Feb. 15 New York Times op-ed, there were 29 countries that produced medalists in wrestling at the 2012 games. Only 26 countries even participated in the pentathlon.
---