Seth MacFarlane's Oscar jokes were bad, but they're just part of a bigger problem
We can carp all we want about Seth MacFarlane's arguably misogynstic, racist, and anti-Semitic language, but his Oscars ceremony was just business as usual. It was a reflection of the same forms of misogyny, racism, and lack of diversity that plague Hollywood and its films generally.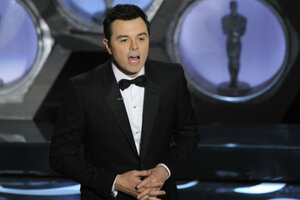 Chris Pizzello/Invision/AP
I've absorbed all the reports and reviews of the Oscars, but I can't help myself: I have a fantasy about host Seth MacFarlane.
It does not involve any part of my anatomy.
Jane Fonda was on stage Sunday night to present the award for best director, but in my rewrite of the Oscars, she turns to Mr. MacFarlane and whacks him with the latest report from the Women's Media Center, which Ms. Fonda founded with Gloria Steinem and Robin Morgan.
Their annual survey on the status of women in media gathers statistics both depressing and uplifting. On Sunday morning political chat shows, for instance, women still only make up about 14 percent of those interviewed. On the other hand, the number of women who are television news directors rose to nearly 30 percent. Nearly at the tipping point there, gals!
The 2013 report came out on Friday, little noticed in the noisy hubbub leading up to the Academy Awards ceremony on Sunday. I wish Kristin Chenowith had been handed that report before ABC gave her the microphone for her red carpet interviews.
Imagine how her interview with, say, Jennifer Garner, could have gone. Instead of asking what designer she was wearing (Gucci), Ms. Chenowith might have asked: "Did you know that even though women account for 51 percent of the movie-going audience, we accounted for only 33 percent of all characters in top-grossing films?''
---