Reactions to Steubenville, Ohio and India gang rapes show India isn't so 'backward'
Indian reaction to the New Delhi gang rape is in many ways more promising than American reactions to US rapes. Take the Steubenville, Ohio, case, which hasn't generated the same public outrage as the case in India. Indian protesters' calls for justice are a heartening sign of progress.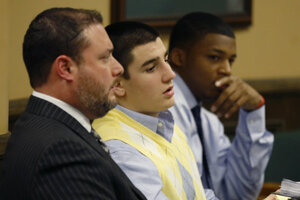 Keith Srakocic/AP
The December 2012 gang rape in New Delhi, India, deserves the public condemnation and outrage that it has brought. But much of the commentary on the case has gone beyond this, holding up the case as evidence of India's larger flaws. The subtext writes India off as a backward and incorrigible third world country, whose primitive norms and lack of rule of law put it outside of modern democracies with more reliable norms and laws.
The unfortunate truth is that India's reported rape rate, and even the slightly higher rate in New Delhi where the gang rape occurred, is less than that of typical European and American rates. In the days following the attack, scores of protests were held all over India but mostly in the New Delhi region where the attack occurred. Democracy went on the move, as thousands upon thousands of people joined in the calls for justice.
The Indian reaction to the incident is in many ways more gratifying and promising than reactions to American rape cases. Take the Steubenville, Ohio, case, which began trial on Wednesday. It has not generated nearly as much public outrage as the case in India. If there is a larger lesson that the gang rape and the public outcry that followed teach us about India, it is one of promise and hope, not alienation and despair.
But commentators have painted a different picture. Lakshmi Chaudhry wrote in The Nation: "[T]here is only one India, a social Darwinian nation where there is no rule of law; where might always makes right, whether your power derives from your gender, money, caste or sheer numbers, as in the case of a gang rape….The young girl who paid an astronomically steep price for an evening out at the movies proved that the so-called 'new India' exists in a bubble built on the delusion of safety."
---