Texas legislators must do their jobs – and not allow concealed guns on campus
The Texas state legislature is currently in committee to decide the fate of SB 182 – a bill that would allow concealed handguns on college campuses. Legislators must heed the perspective of the people who are most affected by a bill – the majority of college students who oppose it.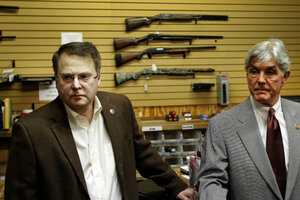 Ron Jenkins/Star-Telegram/AP
The Texas state legislature is considering a bill that would allow concealed handguns on public college and university campuses. Although the bill is being proposed in a gun-friendly state, if it becomes law, it may fail the very people it is intended to help.
The reality is that students, the main constituents affected by the legislation, are at odds with guns-on-campus legislation. Six student governments representing more than 200,000 students at Texas's largest public universities have all explicitly rejected the proposal.
Not all students in Texas are opposed. A petition circulating at private Baylor University has gathered more than 600 student signatures in support of the bill, SB 182. And the Student Senate at Texas A&M passed a conceal-carry bill for the campus last fall, overriding the veto of the student body president. Still, the override came despite referendums that showed opposition from the majority of students at Texas A&M – designated America's most conservative university by the Princeton Review.
Opinion polls of students at the University of Texas San Antonio and Sam Houston State University also show that a majority of the students – and not just student governments – oppose concealed handguns on campus.
There is something wrong when legislators are not taking into account the needs and perspectives of the majority of people who are affected by a bill. That runs counter to the idea of representative government. And it's poor policymaking.
---