Iran and world powers should focus on action steps for short-term agreement
As Iran and the world powers prepare for the next round of talks in Kazakhstan on April 5-6, their focus should be on what is politically and logistically achievable at this stage – clear steps that will help address the immediate concerns of both sides.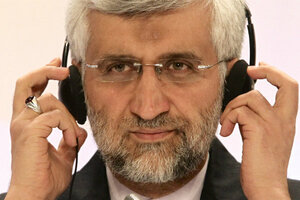 Pavel Mikheyev/AP
Something changed in the nuclear talks between Iran and world powers last month in Almaty, Kazakhstan. For the first time, the two sides negotiated in earnest.
Gone were the preconditions and meandering lectures of the past. Instead of maximalist upfront demands in return for nebulous future rewards, the envoys discussed explicit quid-pro-quo options. Both sides described the meetings with adjectives ranging from "useful" to "pivotal".
Yet the follow-up 13.5-hour meeting in Istanbul between the parties' arms control officials revealed that a great gulf remains in expectations. It was a sobering reminder that the diplomatic process is as fragile as the prospect of an agreement is elusive. Misperception and brinkmanship might yet make this opening another instance of what historian G.M. Tevelyan called "the turning point at which history fails to turn."
As negotiators prepare for the next meeting in Kazakhstan on April 5-6, their focus should be on what is politically as well as logistically achievable at this stage.
The main challenge is that each side doubts the other's commitment to diplomacy. Washington and the Europeans are skeptical that Iran could compromise before its presidential election in June. Tehran, in turn, fears a process in which its concessions are reciprocated by at best partial, reversible, or even symbolic reprieve from sanctions. But both sides' doubts are based on faulty assumptions.
---