Iran nuclear talks: Citizen diplomacy would build trust
As the next round of nuclear talks between Iran and the world powers begins today in Almaty, Kazakhstan, both Iran and the United States should encourage their citizens – clerics, scientists, athletes, doctors, artists, businessmen, and teachers – to meet and work together.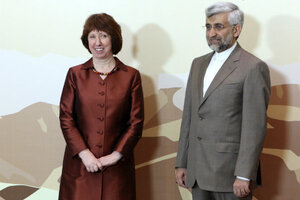 Stanislav Filippov/AP
Washington, D.C. and Princeton, N.J.
After 34 years of hostilities between Iran and the United States, there is now an opportunity for settling their mutual differences. The Obama administration has reiterated its willingness to engage in direct bilateral talks with Iran. Supreme Leader Ayatollah Khamenei has responded to this overture by indicating that Iran would be open to talks when America "proves its goodwill." And even so, the next round of negotiations between Iran and the P5+1 world powers begins today in Almaty, Kazakhstan.
As former American and Iranian diplomats, we recognize that ultimately our two governments must act together to make peace. But we believe that there are other ways than official diplomatic negotiations to bring our two nations and peoples closer and to build trust.
The people of our two nations can engage directly without compromising the negotiating positions of our governments. We propose that the Iranian and American governments once again encourage non-official civilian diplomacy: private citizens and groups undertaking a wide range of people-to-people activities that result in mutual understanding and normal, civilized behavior.
In his message to the people of Iran celebrating the Persian New Year, Nowruz, last month, President Obama quoted the Persian poet Hafez who counseled: "Plant the tree of friendship." Mr. Obama expressed hope for "a new day between our nations that bears the fruit of friendship and peace."
Indeed, there are many Americans and Iranians who have created strong personal friendships despite the hostile relations of their governments. Thousands of Iranian students study in the US each year, and the attitude in Iran toward the American people is generally friendly. However, because of the official hostility between the two governments, the isolation between Iranians and Americans is widening. There is demonization in the media in both countries.
---