Long live the purity of seeds for broccoli
The majority of the world's seed for broccoli, cauliflower, and similar veggies is produced in Oregon's Willamette Valley. But the seeds can be easily contaminated by pollen from canola, which the state recently allowed in the valley. The legislature must ban the canola.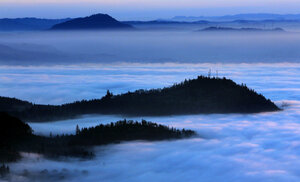 Thomas Boyd/The Register0Guard/AP/file
Atlanta and Missoula, Mont.
Oregon has become the latest staging ground for the global debate about contamination of seed by other crops. At stake there is the purity of seed for broccoli, cauliflower, cabbage, kale, and chard.
The majority of the world's seed supply for these vegetables – from the Brassica genus of plants – comes from the Willamette Valley in the western part of the state. This valley (pronounced "will-LAM-it") is a special ecological zone of good moisture and cool temperatures, ideal for seed production. It is one of only four such growing areas in the world and the only one in the United States.
Yet on Feb. 7, the Oregon Department of Agriculture ruled that almost half the acreage of the valley will be open to canola production, a decision that could threaten the integrity of vegetable seeds because canola pollen can easily contaminate them. Now the state legislature is wrestling with whether to overturn the decision to allow canola growing.
While this debate could be viewed through the prism of genetically modified crops (GMO), which canola often is, strong demand exists for both conventional (non-GMO) and organic Brassica seeds produced in the Willamette. That alone is worthy of their preservation and reason for the legislature to ban the canola.
---