Boston bombings and a Muslim identity crisis
The Tsarnaev brothers had a jumbled identity. I know, because I also had one as a Muslim immigrant to the United States. The challenge of the Boston bombings is for Muslim communities and law enforcement to help create a generation of Muslims with an American identity.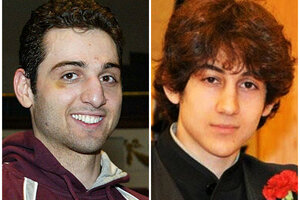 The Lowell Sun and Robin Young/AP/file
We have seen the pictures of the Tsarnaev brothers. We know their names, and we are learning facts about their lives – one a boxer, and the other a student. But we still don't really know their identity.
And neither did the brothers, as they allegedly planted those bombs at the finish line of the Boston Marathon last week.
Or at least, that's what my experience as an immigrant tells me. What the Tsarnaev brothers very likely had was a jumbled-up mass of conflicted identities, making them vulnerable to militant religious ideology. You can wait for the FBI to release their complete psychological profiles to believe that they had a conflicted identity, but I won't.
Because I had one.
Almost two decades ago, I, too, landed in America with components of a conflicted identity. Let's see. Where should I start? Immigrant? Check. Muslim? Check. Young male? Check. Anti-war? Check. Socially isolated? Check.
But there was a key difference: I was taught from childhood that jihad in these times means a personal struggle, not a holy war. I belong to an organized and educated worldwide Muslim community that professes, "Love for all. Hatred for none."
The Tsarnaev brothers didn't appear to belong anywhere. Born with Chechen roots, raised in Kyrgyzstan, Dagestan, and for the last decade in America, they wavered between various worlds.
---