Obamacare faces new legal challenge: Its 'tax' still violates the Constitution
The Supreme Court saved Obamacare by deeming the law's individual mandate a 'tax.' But in that case, the law violates the Constitution's Origination Clause, which says all tax bills must originate in the House, not the Senate. Letting the law stand sets a dangerous precedent.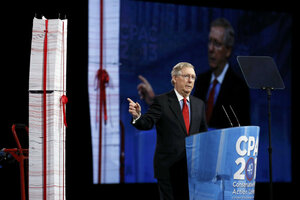 Kevin Lamarque/Reuters/File
With tax day and IRS forms fresh in their minds, most Americans might think the US tax system couldn't get any more daunting.
But next year, some new complexity kicks in.
One of the hotly debated features of the Patient Protection and Affordable Care Act (or "Obamacare") takes effect in 2014. Under the law's "individual mandate," nearly everyone who isn't covered by an employer will have to buy health insurance or pay a penalty. This penalty was officially labeled a "tax" by the Supreme Court, or at least by five of the justices, in its decision on Obamacare last June.
The Obama administration, however, never argued that the individual mandate is an exercise of Congress's taxing authority. And as recently as October, in an interview with Rolling Stone magazine, President Obama avoided the "tax" justification, and still insisted that the individual mandate is a regulatory action authorized by the Commerce Clause.
Just what Americans need: more confusion and ambiguity in their tax law.
By calling the mandate to buy insurance a "tax," the court did more than trigger new debates about semantics. It created a potentially fatal constitutional glitch in the law.
---