Why civilian courts are best for terror trials, especially Boston bombing suspect
As more than 1,000 terrorism trials over the last decade show, the federal court system is well equipped to handle terrorism cases like that of Boston bombing suspect Dzhokhar Tsarnaev. His trial may also help harmonize US counterterrorism efforts with those of its allies.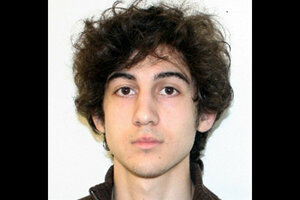 FBI/AP/File
Boston Marathon bombing suspect Dzhokhar Tsarnaev is now sitting in a 10-by-10-foot cell at Federal Medical Center Devens in Ayer, Mass. about 40 miles west of Boston. There, he awaits the next steps in the US government's case against him – first, a probable cause hearing scheduled for May 30.
Before Mr. Tsarnaev got to this point, there was debate among some lawmakers about whether Tsarnaev should be tried as an enemy combatant in a military tribunal or whether he should be tried as a civilian in the federal court system. The arguments from those who pushed for a military trial were at best misplaced. As a US citizen, Tsarnaev could not have been tried in a military tribunal. Those arguments also ignored the institutional safeguards that already exist in our federal court system to protect classified information, as well as the impressive track record of the Justice Department in prosecuting terrorism since September 11, 2001.
As the nearly 1,000 terrorism trials over the last decade indicate, the federal court system is well equipped to handle the complexities of terrorism cases. And it is well equipped to administer justice in the case of Dzhokhar Tsarnaev. In fact, as global counterterrorism efforts have shifted to the legal arena across countries as diverse as Britain and Russia, Tsarnaev's trial can show Americans the benefits of approaching terrorism as the serious international criminal threat that it is, rather than as part of the so-called global "war on terror."
---