America can't afford the real cost of Guantánamo
The consequences of ignoring Guantánamo, its abuses, and its hunger strikers are foreboding – for the prisoners and for America. President Obama must release prisoners with no case against them, move the rest to US courts to be charged and tried, and finally close the detention facility.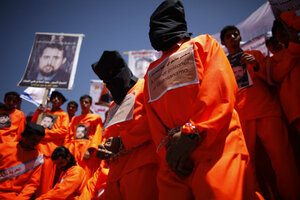 Khaled Abdullah/Reuters
In his April 30 press conference, President Obama responded to a reporter's question about the hunger strikers at Guantánamo with a promise to reengage with Congress to close the US detention facility in Cuba. While that is encouraging news after his five years of relative silence on the subject, it doesn't go far enough. In fact, Mr. Obama's policies have allowed the injustice at Guantánamo to continue.
Americans can not afford the cost of inaction any longer: Guantánamo serves as a recruitment tool for Al Qaeda. It threatens America's global standing as a beacon of justice and the rule of law. And it undermines the international legal precedents that would protect US prisoners abroad as well.
It's high time for Obama to take action on Guantánamo. Its prisoners must be released or charged and tried and the facility closed. With some hunger-striking prisoners reportedly near death, the matter is urgent.
The facts speak for themselves. Of the 166 current "detainees" in Guantánamo, relatively few of them are actually accused terrorists awaiting trial. Eighty-six have been cleared for release to their home countries or other nations willing to accept them. But the Obama administration stalled the transfers in 2009 over concerns about instability in Yemen. Beyond that, a total of 46 detainees have not been charged with any crime and are approved for indefinite detention.
---