Obama, Peña Nieto must save a vital part of effort to fight drug trafficking
Mexico is radically changing the way it cooperates with the US to fight drug trafficking. When President Obama meets with President Peña Nieto today, the two must find a way to save the US-Mexico working groups that have led to arrests in both countries.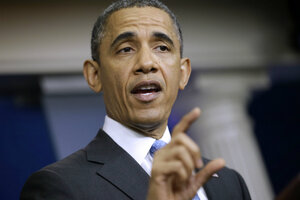 Evan Vucci/AP/file
With President Obama visiting Mexico's new president, Enrique Peña Nieto, today, it's time to ask what the future holds for US-Mexican cooperation in reducing drug trafficking – an effort known as the Mérida Initiative.
The Mexican government is radically restructuring that cooperation. Instead of spreading the work across multiple ministries, which have been working with numerous US agencies, it is coordinating everything under the single roof of its Interior Ministry. We appreciate Mr. Peña Nieto's desire to change course in the fight against cartels, but the far-reaching cooperative structures Mérida established should continue.
We recently traveled to Mexico City, where we examined security cooperation between Mexico and the United States. After speaking with senior officials in several Mexican federal agencies, we can say that changes in cross-border cooperation are dramatic.
Some context. In 2006, President-elect Felipe Calderón decided to make the fight against organized crime a central part of his presidency. He had good reason to do so. Drug-related violence was soaring and becoming more gruesome. Since then, more than 60,000 Mexicans have lost their lives to drug-related violence.
The violence is not, however, just a Mexican issue. American demand for drugs fuels the trade, and guns from the US are the cartels' weapons of choice. In Chicago, the murder rate is on the rise, partly because of drug trafficking.
---