Cleveland's Charles Ramsey: hero, or black stereotype?
What's behind the media and popular fascination with Charles Ramsey – the man who helped rescue three women held captive in the Cleveland home of Ariel Castro? It appears to be less because of his heroism than it is from amusement over a certain stereotype of a black man.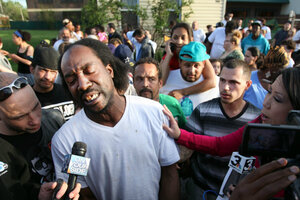 Scott Shaw/The Plain Dealer/AP
Monday's liberation of three women in Cleveland ­– Amanda Berry, Gina DeJesus, and Michelle Knight – held in captivity for about 10 years by accused kidnapper Ariel Castro is rightfully the center of significant national media attention. Charles Ramsey, the man who claims to have come to their rescue, has been lauded as a hero.
It now appears Mr. Ramsey may not have been the first on the scene or the only hero in the rescue (neighbor Angel Cordero says he arrived first). But Ramsey's account – and his persona – has gone viral. Just as quickly as he launched into action on Monday, the caricaturing – intentional or not – of Ramsey as a stereotypical black man began.
Riddled with the candor, colloquialisms, and cadence of a particularly African-American dialect, his description of the rescue to a local TV news anchor, coupled with his appearance, became instant fodder for the social media machine. It was not heroism that caused the interview to go viral, but amusement at the typecast unfolding before our eyes.
This portrayal has overshadowed the act of heroism that should be at the heart of Ramsey's story. While there's much of Ramsey's persona to delight in, glorifying stereotypes can have serious repercussions. Studies have shown that imagery, even if fake or inaccurate, works itself into our memories and can affect our behavior. And the disproportionate coverage of African-Americans in local media as poor, uneducated criminals, for example, influences how society views blacks as a whole.
---