As North Korea heats up, South Korea and Japan should warm ties
Cooperation on missile defense between South Korea and Japan would help blunt threats from North Korea. But Japanese officials' recent insensitivity to Imperial Japan's painful role in World War II, including forcing South Koreans to become 'comfort women,' works against cooperation.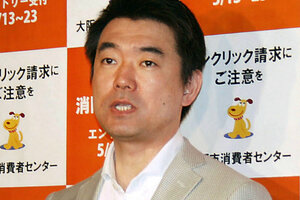 Toru Hashimoto/Kyodo News/AP
Late in April, as the North Koreans appeared to be preparing to test new medium-range ballistic missiles capable of carrying a nuclear warhead, the top American military leader issued an almost plaintive plea to an audience of Japanese defense officials.
South Korea and Japan have very capable air-defense systems, Joint Chiefs Chairman Army Gen. Martin Dempsey said. Unfortunately, he lamented, "as I stand here today, with the North Korean threat very real, those two pictures are not combined."
For Americans, whose air defenses are closely tied to those of Japan and South Korea, the logic of cooperation between its two principal allies in Northeast Asia has long seemed clear. All three countries face a common threat from a North Korean regime armed with weapons that can reach the South and also US bases in Japan. US forces in Japan are the backbone of any response to war on the Korean Peninsula. Trilateral cooperation could also help balance the growing and assertive military presence of China in the region.
As General Dempsey knows all too well, strategic and military cooperation between the two neighbors is almost nonexistent, and what little there is usually takes place out of public sight. Only days before this speech, the South Korean foreign minister canceled a visit to Japan aimed at discussing joint measures to deal with North Korea. Last year, the South Korean government pulled back from an agreement with Japan to exchange military intelligence literally hours before the signing ceremony.
---