What Bangladesh – and US retailers – must do to prevent man-made tragedies
Two man-made tragedies have shaken Bangladesh recently: riots over Islamist demands for blasphemy laws and the garment factory collapse. Bangladesh's response to both will show how well it can meet citizens' needs. US retailers must also take responsibility for factory conditions.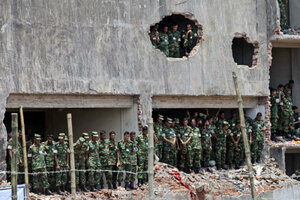 A.M. Ahad/AP
Fairly or not, Bangladesh seems to make international news only at moments of tragedy.
Much of the misery that afflicts this teeming South Asian nation has been beyond human control. Since 1980, nearly 200,000 people have been killed in natural disasters, and more than 10 million Bangladeshis are affected by such events on average each year. Tropical Storm Mahasen hit coastal areas earlier today, killing 12 people, destroying thousands of homes, and forcing as many as a million people to flee the area.
But perhaps most tragic of all are the disasters that are wholly preventable: the deaths, maimings, and crushed livelihoods that result from human callousness or indifference.
In recent weeks we have seen two very different examples of such man-made tragedies: riots stemming from Islamist demands for anti-blasphemy legislation, and the collapse of an eight-story textile factory complex. Bangladesh's response to these events will demonstrate the extent to which the nation's political class is able – or willing – to address the pressing needs of its citizens.
The most recent deaths, more than 20 so far, have come from repeated clashes between security forces and advocates of a strict new anti-blasphemy law. Bangladesh is a predominantly Muslim nation, but over one-tenth of its 163 million citizens practice other faiths (the vast majority of citizens belonging to a religious minority are Hindu).
The constitution of Bangladesh defines the nation as a secular democratic republic. Unlike nations such as Saudi Arabia (where sharia is the official law of the land), Bangladesh is not legally an Islamic state. The Islamist group Hefajat-e-Islam, which is spearheading the protests, demands that the constitution be amended.
---