Why are Obamacare supporters attacking job creators?
When seemingly organized Obamacare supporters attack small business leaders who express concern about the health-care law, job creators are no longer just uncertain about how their business will be impacted by the law. They are afraid – for their businesses and to speak out.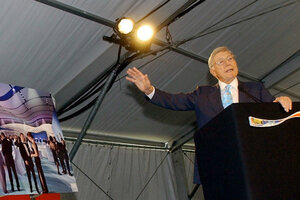 Ric Feld/AP/File
On a Monday morning in March, small business owner Mike Ruffer told a group at the Heritage Foundation in Washington, D.C, how his eight Five Guys Burgers and Fries franchise restaurants in North Carolina were faring under the Affordable Care Act, known as Obamacare. Five hours later, the backlash was so intense he had to wonder if that 15-minute speech might kill his company.
In fact, Mr. Ruffer is the most recent victim in a troubling pattern of seemingly orchestrated campaigns to silence small business owners who speak out about President Obama's agenda. CEOs have told me they see disturbing parallels in the Internal Revenue Service and Department of Justice scandals, where the administration pursued political opponents and the press. And, quite frankly, these business owners are afraid.
Ruffer is in the same tough spot most job creators are today: stuck in the limbo of uncertainty about the future of Obamacare. He told the audience in Washington on that Monday morning that Mr. Obama's health-care reform was so expensive he had to cancel expansion plans and may raise burger prices.
---