This graduation season, let's remember the 20th century
Steve Jobs told college graduates to follow their inner passion. John F. Kennedy told them to solve the world's problems. At graduation ceremonies, speakers should remind men and women not just of their obligation to pursue self-satisfaction, but also of their duty to fellow human beings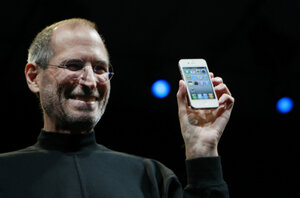 Paul Sakuma/AP/file
Aim high. If you fall, pick yourself up. And, most of all, follow your dreams.
Welcome, college graduate, to your 2013 commencement exercises. The speeches are all about you! You should find something that makes you passionate; you should pursue it, as far as you can.
Millennials have become even more of a "Me" generation than their boomer parents. They've been raised on self-esteem and digital access that fuels their focus on self-fulfillment and quick gratification.
They've been told they're special and encouraged to follow their passion from childhood. Many of this spring's graduation speeches won't deviate far from that line. But what happens when your passion clashes with someone else's? And what about the millions of human beings who simply can't follow their dreams, because they're too mired in poverty, illness, or oppression?
As thousands of young Americans don goofy medieval caps and gowns to graduate from college this month, we should be reminding them not just of their obligation to pursue self-satisfaction but also of their duty to their fellow human beings. Instead, they'll probably hear actors, businessmen, and other celebrities expound on the virtues of rugged individualism.
Consider Steve Jobs's 2005 address at Stanford, which is probably the most famous commencement address of our time. Mr. Jobs recounted his own remarkable life story, from college dropout to computer billionaire. And the moral of the tale is simple: Find what you love, and stick with it.
"Your time is limited, so don't waste it living someone else's life," Jobs declared. "Don't let the noise of others' opinions drown out your own inner voice….[H]ave the courage to follow your heart and intuition. They somehow already know what you truly want to become. Everything else is secondary."
Really? Everything else? Even, say, your friends and your family? Your country? Your world?
---