Americans should remember: Politicizing the IRS is a bipartisan tradition
Democrats and Republicans alike have tried to use the Internal Revenue Service to serve their own political ends. The real question, as William F. Buckley foresaw, is whether the IRS can render its judgments with justice. Both parties should join hands to ensure that it does.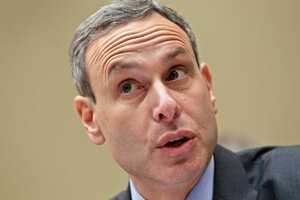 J. Scott Applewhite/AP/File
Does the Internal Revenue Service scandal conjure "unpleasant echoes" of Richard Nixon?
Sen. Lamar Alexander (R) of Tennessee said last week that it did. So did a host of other GOP critics, who linked the recent targeting of conservative groups by the IRS to Nixon's use of the agency as a weapon against his "enemies list."
Liberals quickly replied that President Obama had pledged to root out political bias from the IRS, offering his full cooperation in the ongoing investigation. And whereas Nixon expressly ordered the IRS to harass his foes, there's still no evidence that Mr. Obama himself even knew about the IRS practice until media outlets reported it.
But both sides are ignoring the sordid politicization of the IRS before Richard Nixon, when Democrats – not Republicans – were in power. Despite what you may have heard, no single party owns an historical monopoly on IRS-related sleaze. And that's precisely why we all need to be vigilant in guarding against it.
Start with the "Ideological Organizations Project" designed in the early 1960s under John F. Kennedy, who worried that right-wing organizations were undermining American democracy. So Kennedy's aides ordered IRS audits of them.
Like the ultra-conservative John Birch Society, some of the targeted groups trafficked in paranoid conspiracy theories; the Birchers famously claimed that Dwight D. Eisenhower – Kennedy's Republican predecessor – was a secret communist. But others were investigated simply because they opposed taxes, labor unions, and government regulation of business.
After Kennedy was assassinated, Lyndon B. Johnson continued to target right-wingers via the IRS. But conservatives struck back after the agency revoked the tax exemption of Billy James Hargis, a fundamentalist Evangelical minister who railed against "liberalism and communism."
---