Supreme Court affirmative action decision: Don't be fooled by flawed theories
One of the most specious arguments the Supreme Court has heard in the Fisher v. University of Texas affirmative action case deals with 'mismatch theory.' It says affirmative action harms minorities because it puts them in universities where they are outmatched by their peers.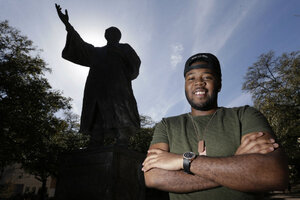 Eric Gay/AP
The Supreme Court's much-awaited decision on affirmative action in the Fisher v. University of Texas case could be handed down as soon as this Tuesday, May 28. The court – and the public – have heard a host of arguments both for and against the practice. One opposing argument in particular has been more specious than many of the others.
For nearly a decade, UCLA Law professor Richard Sander has demanded an overhaul of affirmative action practices at colleges and universities, citing his own research on the "mismatch" theory. According to Mr. Sander's theory, affirmative action harms blacks and Latinos because it pushes them into situations (elite universities) where their peers outmatch them in standardized test scores. This "mismatch," Sander claims, leads to underperformance, which then leads to the students' failure to achieve their ultimate goals.
Scholars have been quick to point out holes in the mismatch argument. For example, scholars have highlighted how Sander's research fails to capture the complexities of admissions decisionmaking, which is not simply based on test scores, but instead involves holistic reviews of the many well-qualified students who are vying for limited seats at competitive institutions.
Scholars also have noted how Sander's analysis does not adequately take into account the impact of hostile racial environments (at elite institutions) on student performance. They have further noted how the mismatch theory improperly rests on one narrow view of merit, failing to acknowledge the many ways in which different students may be mismatched against one another. Other research shows that students who enter elite institutions under affirmative action policies excel – even more than their white peers.
---