Europe must fix its leaning Tower of Babel
Those who want to preserve Europe's unity should not dismiss nationalist sentiments or frustration over austerity policies. Europe must forge a common identity that leaves room for diversity while delivering opportunity and security through a strong but limited European government.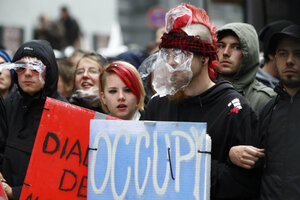 Ralph Orlowski/Reuters
The eurozone today has become a leaning Tower of Babel. The sovereign debt crisis and the high social costs of austerity have severely weakened its foundation. Whether this tottering edifice designed to thread diversity through the needle eye of a single currency finally collapses and falls, or is able to right itself, will depend on re-founding a European narrative for the 21st century.
The project of European unity was born out of the fear of war, which devastated the continent twice in the 20th century, and the promise of prosperity. Precisely because of the last few decades of step-by-step integration, war is no longer a danger — and thus has lost its force as the compelling raison d'etre of unity. On the other hand, if, as the current situation suggests, integration means more pain than gain, the "lost generation" of youth facing a jobless future can be forgiven for asking "why Europe?"
At the recent town hall meeting organized in Paris by the Berggruen Institute, French President Francois Hollande called for a "new narrative" for Europe that would appeal to the "post-crisis" generation of today as the "post-war" narrative appealed to the generation that founded the European Union. Jacques Attali, the former top aide to Francois Mitterrand and mentor to Mr. Hollande, told the students of Sciences Po, where the town hall meeting was held: "Young people today are faced with three options if the current eurocrisis is not resolved — leaving Europe, staying in Europe without hope, or going into politics and starting a revolution."
As mr. Attali's comment suggests, the despair of youth today is destroying their faith in the promise of Europe, as we see with the success of the left-populist blogger-comedian Beppe Grillo in Italy. Right-wing movements across Europe from the True Finns to the neo-fascist Golden Dawn in Greece yearn for the days before globalization, Muslim immigration, gay marriage, and the Growth and Stability Pact.
---