Does Obama care that US students aren't prepared to be US citizens?
The US Department of Education's decision to indefinitely postpone nearly all national exams in civics and US history eliminates the only objective gauge of whether students are learning basic US history and the essential skills needed to be good citizens. Sadly, we already know they aren't.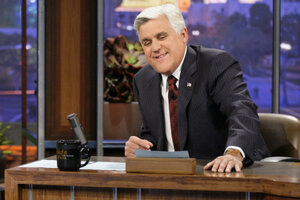 Paul Drinkwater/NBC/AP
When Thomas Jefferson founded the University of Virginia, he prescribed a specific course of study for its students. Included were works by John Locke and Algernon Sidney for "the general principles of liberty"; the Declaration of Independence for the "distinctive principles" of the US government; "The Federalist" for the "genuine meaning" of the Constitution; and George Washington's Farewell Address for "political lessons of peculiar value."
The author of the Declaration clearly thought that laying out the principles of republican self-rule was not sufficient in itself. A healthy republic would require an educated, well-informed citizenry, one that understood its nation's history, its founding principles, and its major institutions.
Judging by the decision in May to indefinitely postpone national exams in civics, US history, and geography for fourth- and 12th-graders, however, Jefferson's wisdom has gone by the boards. These tests, part of the National Assessment of Educational Progress (NAEP), are the only ongoing, objective benchmark of whether students are learning basic American history and the essential skills needed to be good citizens.
The exams, also known as the "nation's report card," are continuing for eighth-graders, but because the bulk of civics teaching occurs in high school, testing only in middle school will reveal little.
NAEP tests are an important measure of student achievement. Unlike state benchmark exams, which vary, NAEP is administered uniformly across the nation, allowing education observers to get a clearer picture of student progress over time.
This is not the first time that civics and history exams have been on the chopping block. In 2004, the civics exam was nearly canceled until educators and Congress members intervened. NAEP's governing board then agreed to conduct the assessment and to increase the frequency of both the history and civics tests to every four years – a promise that is now being broken.
---